Our Regular Classes and Groups are:
SAYGo Falls Prevention Exercise classes on Tuesdays at 10 am and Wednesdays at 1.30 pm – read more
Senior exercises on Mondays, Thurdsays and Fridays – read more
Home Share on Tuesdays, 10am to 3pm. – read more
Walk groups, around Lincoln and further afield, on Tuesdays, Wednesdays and Fridays – read more and for a programme of the walks
Patchwork and Quilting Group – fortnightly during school terms 6:30 pm – read more
Conversational English on Mondays at 4.30 pm – read more
International Support Groups – Wednesday walk at the University, knitting, baking, sewing, gardening, driver confidence – read more
SAYGo Falls Prevention Exercise classes
Improve your Balance – Mobility – Strength – General Fitness – Well being. Two classes are available.
On Wednesdays from 1.30 to 2.30 pm at Community Care Lincoln, 16 Lyttelton Street, Lincoln (behind the Lincoln library)
Or from 27th February on Tuesdays at 10am at the Lodge at Barton Fields. This new class will give another option for those who cannot come on Wednesdays or who wish to attend twice weekly.
Falls are often preventable! Falling over is not a natural part of ageing.
There are other SAYGO classes running around Canterbury.
For more information see www.ageconcerncan.org.nz or call Age Concern Canterbury on 366 0903 or Community Care Lincoln on 03 325 2007.
No need to book – just come along and bring a $2.00 donation per class please. Click here for more details
back to the top

PATCHWORK AND QUILTING GROUP
Fortnightly on Tuesdays during school terms, from 6:30 pm to 8:30 pm, at the Habgood Lounge in the Lincoln Event Centre, Meijer Drive.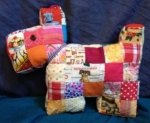 Beginner and Experienced Quilters and Patchworkers welcome.
An annual class fee of $20 is payable at Community Care Lincoln, 16 Lyttelton St, Lincoln.
An additional annual fee of $10 is payable if participants are not already financial members of the Lincoln & Districts Community Care Assn. Inc.
For more information contact Janet on 348 6098.
back to the top