What's on?
Wednesday 11th September 1:30 to 3:30 pm – Plot to Pot Organic Farm Tour
Tour through Lincoln University Biological Husbandry Unit. The extremely Knowledgeable BHU team will take you on a tour through their gardens and answer any questions you may have.
This is a very special glimpse into the fantastic world leading work carried out on our doorstep. The BHU at Lincoln University is a the end of Farm Road.
For more – information and directions or direction map only
For more information please contact Community Care on 03 325 2007 or email admin@lincolncomcare.co.nz.
Donations are welcomed.
Sunday 06 October, 11:00 am – 4:00 pm – Spring Fling
The Ellesmere Spring Fling is a country fete, held in the award-winning Broadfield Garden.
Enjoy a relaxing day. Take a guided tour of Broadfield Garden with exhibits, demonstrations, artisan stalls, great food and beverages, entertainment plus more. Our Principal Sponsor is Intelligro.
Relax and soak up the atmosphere. Enjoy a lovely day out and support Community Care Lincoln.
Tickets: $15 per adult, school children and preschoolers free. Gate Sales will be available for $20 per adult.
The Spring Fling tickets are available now from –
Community Care Lincoln, New World Lincoln, Paper Plus Hornby and Intelligro
The event will go ahead wet or fine!
Please note: This event is suitable for families. Alcohol will be available for purchase but no BYO alcohol.
Other Events on in Selwyn
To check out what is happening in our Community go to www.everythingselwyn.co.nz/event/index
Volunteering Canterbury – Volunteer Recognition Awards 2019.
Community Care Lincoln is very proud that their Home Share Volunteer team received an award at the Volunteering Canterbury 'Volunteer Recognition Awards 2019.' In recognition of an outstanding voluntary contribution to the community the award was presented by Hon Ruth Dyson MP.
"A sense of inclusion and countering isolation for elderly or health affected people is the result of the individualised attention to all those who attend at a weekly social group run by the Home Share volunteers implementing the Lincoln and Districts Share Programme."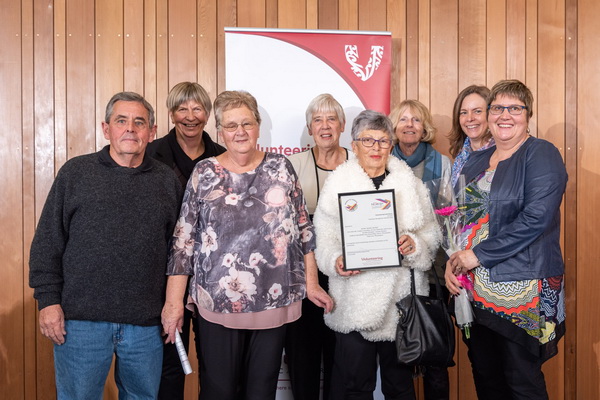 The Home Share Team (from left) Kerry Thomason, Louise Jenson, Pat Thomason, Evelyn Carman, Kay McCarthy, Gill Evans, Kirsty Hooper, Sue Silcock. Absent are Justine Marshall and Erica Cleland.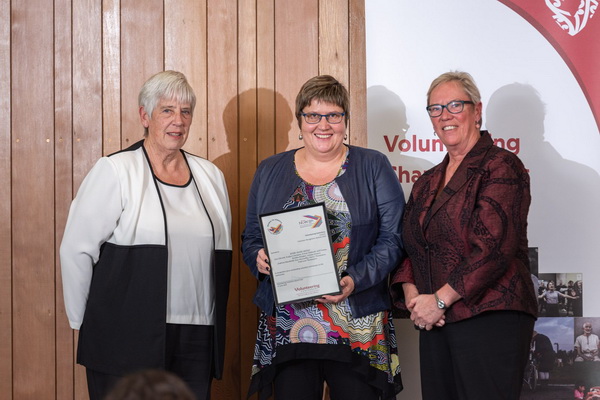 Sue Silcock and Evelyn Carman accepting the award from Ruth Dyson on behalf of the Home Share team.
The above photos are from Volunteering Canterbury's facebook page.
https://www.facebook.com/VolunteeringCanty/photos/a.10161919249895322/10161919542410322/?type=3&theater and https://www.facebook.com/VolunteeringCanty/photos/a.10161919249895322/10161919700605322/?type=3&theater
Spring Fling 2018 – read a review
Our Regular Classes and Groups – read more
International Support Groups – read more
Current Initiatives
Our Visiting Service is available to anyone who needs a friendly face to brighten their day.
We have trained volunteers who can visit you in your home to share a cuppa and friendly conversation.
For more information – click here
Learning to Bake
One on one mentoring success story
Click on the following: – LEARNING to BAKE one on one mentoring success story
FACEBOOK
Click here to follow us on Facebook.
Our Newsletters – read more
See our – Photo Gallery